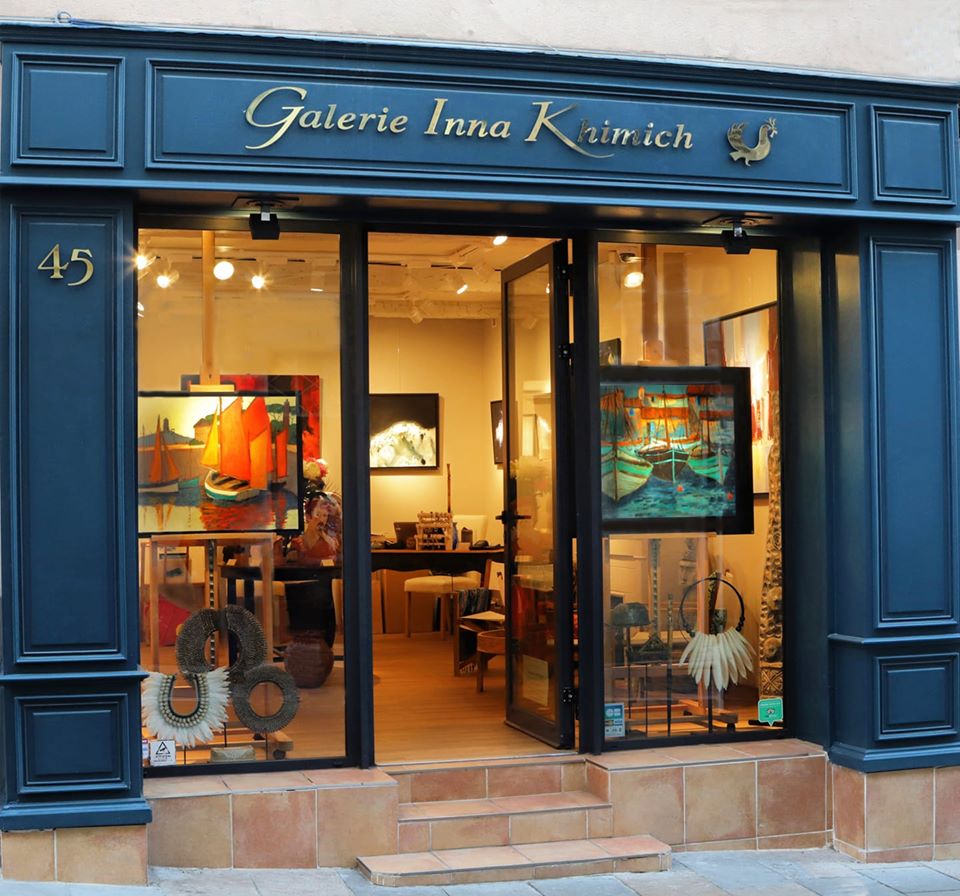 The Inna Khimich Gallery, a venue which samples the world
Right in the heart of the village of Le Mourillon, Toulon's most charming district, the gallery opens its doors on a contrasted world of colours and motifs… Walking in via the glass door, a luminous reception area invites the eyes to roam over an abundance of artistic expressions. Canvases and photographs, statuettes and sculptures, jewels and tribal art from every era and continent, the works of many await discovery. Fortunately, the cozy gallery is orderly within the profusion. It allows time for the eyes to adjust. And the luxury to travel through space and time one small step at a time. There is a melodic sense to the arrangement of the myriad works and objects. And indeed, the owner, Inna Khimich, was a violinist for most of her life. Harmony is her own deep-seated quest.
A colour or a note, an image or a feeling, decoration or tessitura… Barriers and borders, in art or elsewhere, exist only in the mind. Thanks to her composition, the artists may express their own uniqueness within a tapestry of perceptions, ideas and sensations.Inna Khimich and her husband Yann Rebecq, a painter, seek out their artists while travelling abroad to international art fairs. They often find themselves in China, Hong Kong, Singapore and Korea as representatives of France and the South of France. They allow themselves to be taken in by their well-honed intuitions and well-met encounters to decide whose art will adorn their walls. Et, grâce à la composition toute personnelle d'Inna Khimich, chaque artiste a loisir d'exprimer son unicité au sein d'une tapisserie d'expressions, de thèmes et de substances.
"I am attracted to originality, Inna confided, art that is singular and rare. I am much more interested in quality and know-how then fashion. The artist's sensitivity and truth move me as well as beauty. What life experience is expressed within their work…" And that is how paintings and photographs, sculptures and tribal art from all around become travelling companions – recreating a venue which samples the world.
The Gallery and the Mourillon
The Inna Khimich Gallery is in Toulon, a Provencal town in the South of France and on the French Riviera. Toulon has a maritime tradition and is flanked on one side by Mont Faron, which offers a striking view of its urban expanse and beautiful coasts, and on the other by the Mediterranean Sea.
The Inna Khimich Gallery has chosen to set up shop in Rue Lamalgue, the most commercial street in the district of Mourillon, a charming village true to the French way of living.
The Village itself is located on a peninsula separating the small harbours and town centres of Toulon and La Seyne sur Mer with the big harbour ending with the island of Porquerolles (National Park) and Saint Mandrier. The area has the most temperate climate in the whole of France: mild in winter and not so hot in summer
Mourillon began as a small village of fishermen and farmers, with its beaches, charming coves and wild protected creeks, its church and squares… and grew to welcome more beautiful villas and flowery gardens, a daily market, fashionable designer boutiques, antique shops, delicatessens and traders in French gastronomy, little cafés and fine restaurants
This is also where famous musicians started their careers: the jazz-men Django Reinhardt and Stéphane Grappelli and the pianist Michel Petrucciani. A number of poets and writers have made their home here over time. Jules Verne bought a very nice house near Fort Saint Louis (the fishermen's harbor), which now houses a small Museum of Asian Arts. And several painters have set up their studios here as well…
How to come to the Inna Khimich Gallery in Le Village du Mourillon, Toulon
By TGV (high speed train) from Paris-Charles-de-Gaulle airport (there is a direct high speed train to Toulon)
By direct TGV from the centre of Paris (Gare de Lyon).
By PLANE from Orly airport (south of Paris):
Daily flights with Air France or Transavia between Orly airport and Toulon-Hyères airport (la Palyvestre)
By motorway from Paris, Lyon, Aix-en-Provence, Marseille, Aubagne, La Ciotat, etc.: take the A7, A8, A50 and A52 motorways (Aix-en-Provence and Marseille are 45 minutes away from Toulon, La Ciotat: 30 minutes)
By motorway from Monaco, Nice and Nice-Côte-d'Azur airport, Cannes, Le Luc: : take the A8 and A57 motorways (Nice is 2 hours away from Toulon, Cannes: 1 hour and 20 minutes, Fréjus and Saint Raphaël: 1 hour, Le Luc: 35 minutes)
To get to Le Village du Mourillon and to the Inna Khimich Gallery, from Toulon city centre
take the line 3 from Toulon train station, or from the city centre, or from the end of Toulon harbour (East side). Get off at "Boulevard Bazeilles" near the Place du Marché (ask the bus driver), and walk up the Rue Lamalgue to N°45.
Follow the signs from Toulon city centre towards "Le Mourillon" and "Les Plages". Park in the large free car park on the beaches of Mourillon, and walk up to the Boulevard Sainte-Hélène (in the extension of the Rue Lamalgue), and walk down 60m to the Inna Khimich gallery at 45, Rue Lamalgue, a mere 350m walk from the car park on the beaches of Mourillon.